According to Kantar's U.S. MONITOR, 90% of Millennials view owning a home as a sign of success and accomplishment—a percentage that's consistent with the total population. Yet U.S. MONITOR also finds home ownership may be more of an elusive ideal than reality for the Millennial generation compared to  older Americans.
Crowded House
Thirty-eight percent of Millenials in our U.S. MONITOR survey have moved in with family or friends since the start of the Covid 19 pandemic (with 24% doing so on a permanent basis).  That number is signficantly lower for the total population of U.S. adults 18 and up (22%), which includes just 16% of Gen X and 4% of Baby Boomers.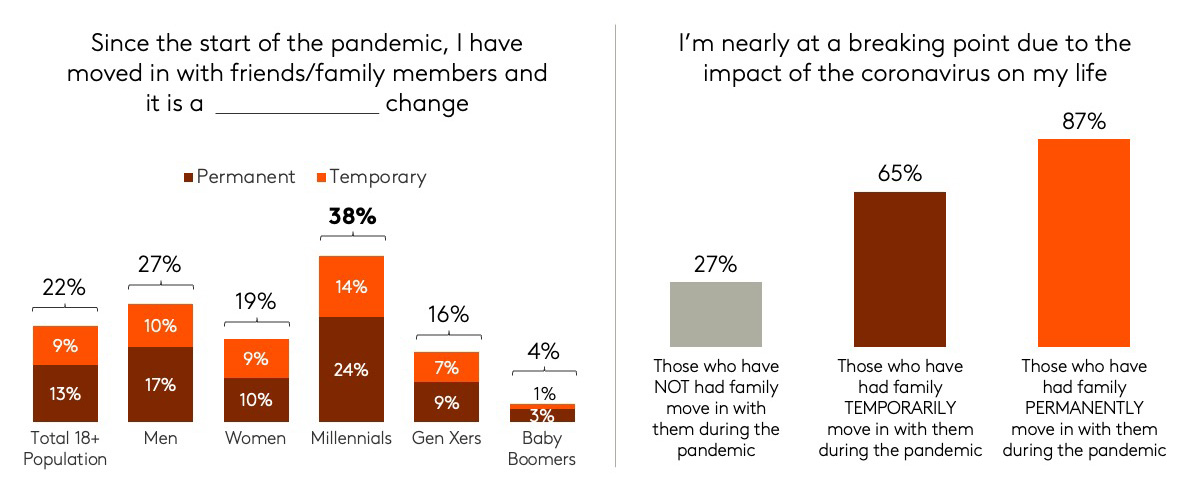 And the situation has not exactly provided domestic bliss; 87% of those who have had family members permanently move in with them during the pandemic have reported being "nearly at a breaking point due to the impact of coronavirus on my life" compared to just 27% of those who have not had a family member move in.
Buyer's Remorse
Discontent is not just reserved for those who have taken in family though. Many Millennial homeowners themselves are having second thoughts about their decision to buy.
In fact, U.S. MONITOR finds that more than half of the country's youngest homeowners (55%) say they regret their decision to purchase a home to some degree, with nearly one in three saying they regret it some or all of the time. Older homeowners are far more satisfied, with just 15% expressing regret some or all of the time.
A Different Outlook
So what gives? The financial uncertainties brought on by the pandemic certainly help to explain why Millennials have moved back home in such large numbers, but along with financial pressures, cultural attitudes need to be considered in understanding why so many young people regret their home purchase.
Generally speaking, even as housing values rise the perceived frailty of the system may be making many newer homeowners unsure about their decision in the long run. However, Millennials have a sharply different attitude toward material possessions than older Americans, which may mean that they experience the burdens of homeownership in different ways than prior generations. U.S. MONITOR, for example, finds that 75% of Millennials feel they have "a great need to get rid of some of the non-essentials in my life", while 70% say that "prioritizing experiences over material possessions" is extremely or very important in their personal life. Both answers represent the highest degree of any generation. Further, the responsibility of homeownership may not be as appealing for Millennials, 87% of whom say they would "welcome more novelty and change in my life," the most of any generation as well.
How Brands Can Help
Given that Millennials represent nearly a quarter of the U.S. population, the highest percentage of any generation, the implications of these findings for brands, especially those in the home durables, furnishings and goods categories, is significant.
Brands could go a long way in helping dissatisfied Millennial homeowners by understanding and catering to their particular needs.
Millennial homeowners are far more active in making improvements to their homes than other segments. Forty-seven percent of Millennial homeowners have made a major renovation or remodeled their house since the pandemic began, compared to just 22% of the rest of homeowners. And they are often buying their home improvement goods online.
Nearly one third of all Millennial homeowners have done their recent home improvement shopping exclusively online (compared to 15% of Gen X and 9% of Boomers), making the ecommerce experience a critical lever for home retailers looking to attract this segment. In fact, 74% of Millennial homeowners report they are still buying things online that they would have normally bought in the store before the pandemic vs. 47% of the rest of homeowners.

Convenience is key for this generation. Seventy-five percent of Millennial homeowners say that saving time is extremely or very important in their personal life vs. just 46% of the rest of homeowners. This desire for convenience, and adoption of online shopping, will create white space for companies to bring new home products and services right to Millennials' doorsteps, regardless of category.
Interested in more insights on Millennial homeowners?