Numerous studies have shown that Hispanics are grossly underrepresented in U.S. media, especially television. Although they comprise almost 19% of the U.S. population (2020 U.S. Census) Hispanics make up just 2.9% of lead roles in primetime TV and streaming programs, per a 2021 UCLA study.
And it hasn't gone unnoticed. Kantar's U.S. MONITOR finds Hispanic consumers crave content tailored specially to them, including 8 out of 10 Hispanic viewers who believe that there should be more content directed towards culturally diverse audiences.
Noticing the gap in current media, Hispanic creators have taken matters into their own hands and created platforms that are culturally relevant for Hispanic audiences. In 2021 digital publisher mitú launched Latido Music, a free 24-hour linear and on-demand television channel for Latin music fans, while Remezcla, considered the most influential media brand for Latino Millennials, was created to showcase stories about Latin music, culture and events that are overlooked by other media outlets.
Tailored offerings such as these may help explain why a higher portion of Hispanics are involved with streaming TV and music when compared to the rest of the population.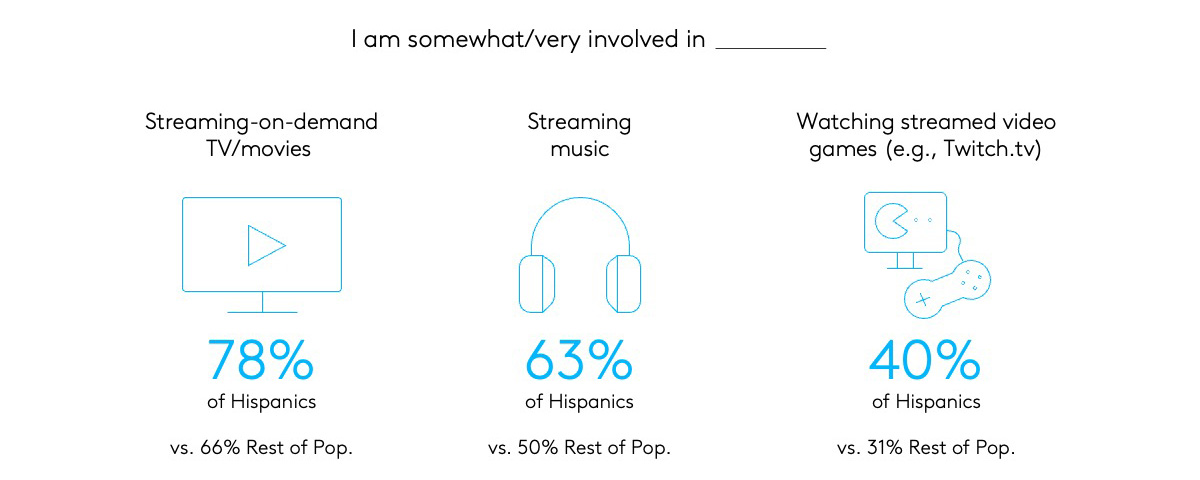 Nonetheless, the sizeable gap in Hispanic representation on U.S. television persists and is unlikely to close without concerted efforts by media companies—a pursuit that makes sense not only from a diversity, equity and inclusion standpoint but also a business perspective.
Hispanics consumers are highly sought after by advertisers. As of 2020 Hispanics accounted for more than half of the population growth in the United States and are projected to increase to nearly 28% of the total population by 2060 according to the Census Bureau. They also represent significant and growing buying power. The University of Georgia's Terry College of Business reports that Hispanics accounted for $1.9 trillion in buying power in 2020—more than 11% of total U.S. buying power that year—and projected to increase to $2.6 billion by 2025.
Unless media companies take strong steps to attract Hispanic viewers via Hispanic-focused content and creators, they risk losing more ground with these audiences, especially younger people who are forming their content-viewing habits, and in turn may miss out on advertising dollars earmarked by brands to engage Hispanic consumers.
Interested in more insights on Hispanics or U.S. Media?